Jon Lee Hollingshead: Life Pattern
Jon Lee Hollingshead was born on August 7, 1940 to John and Frances (Campbell) Hollingshead and grew up in Zion, Illinois. Jon graduated from Zion-Benton Township High School in 1958. Then he took a train to Atlanta, Georgia to study engineering at Georgia Tech. What follows is an autobiography of "a guy wandering around the country."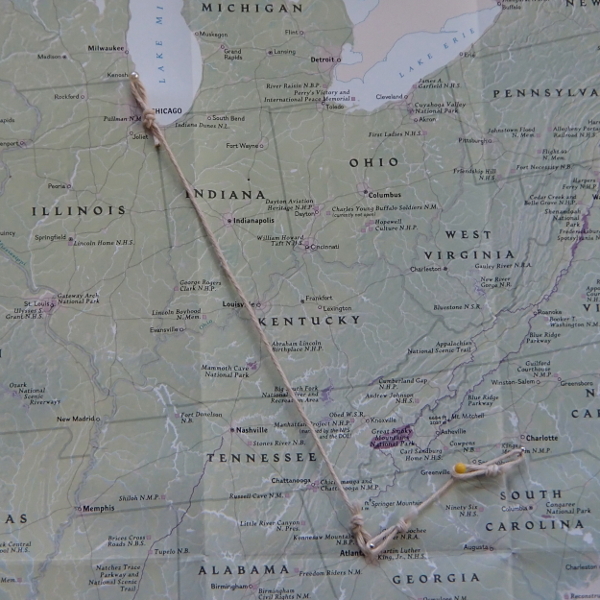 My cousin Jeanie was at Bob Jones. She had attended, graduated, met her husband Don there, and moved back with him and their three children. Don taught voice at Bob Jones. I was reintroduced to Bob Jones when I was hitchhiking from Atlanta, where I was at Georgia Tech, up to Winthrop College in South Carolina. My Uncle Al Campbell had suggested that I look up a distant relative, Augusta, who was at Winthrop. Bob Jones is in Greenville, South Carolina. There I was in the middle of the night, waiting for a ride and right across the street from Bob Jones.
I was surprised when I arrived on the Bob Jones campus asking about my cousin. I had been on my own in Atlanta and Bob Jones is a very controlled campus. I got to ride around with the campus police for a while waiting for Jeanne and Don to return from some engagement.
When I decided to change from Georgia Tech, Bob Jones was the only "Christian" school that I knew. The advantage I had was that I had decided on my own to attend there and when the time came, decided to leave. Many fellow students had been sent there by their parents, either out of fear or in an effort to curb rebellion.
I was at Bob Jones for two second semesters. At Georgia Tech, I had been in a Co-Op program where I was in school for one quarter and worked for one quarter. This made it possible to pay my way earning enough in one quarter to pay for the next school term. Now, in a two semester school, this was impossible. If I had a good summer job, I would work right through to January and return to classes the second semester.
Bob Jones was a strange case and very strict. All life was regimented; rising times, eating times, every one in the school dining hall for all meals, bedtime devotions, and lights out. As I said, I had gone there on my own and I stayed for two semesters before deciding to leave. They were upset with me and tried to make me feel guilty. I started looking for another school.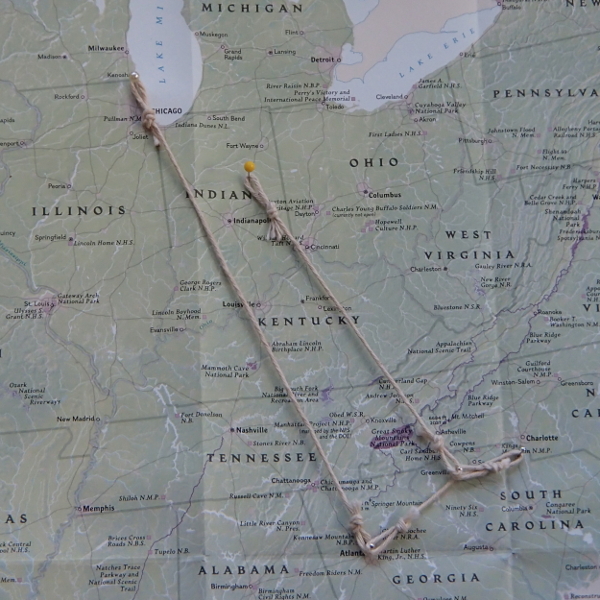 Summer of 1962, I visited Taylor in Upland, Indiana and applied to transfer. Taylor was more to my liking but was a strange case also. The school was considering a campus move to Fort Wayne and no improvements were being made to the Upland campus. We lived in housing known as 'the shacks' north of the main campus. These were barracks style housing for six students; three bedrooms and a living space with an oil heater. My roommate was Joe Vandegriff from Muncie, Indiana. Joe and I got along quite well and became life-long friends. We were both amateur radio operators. I am K9BIO and he is K9RZE. Joe's dad was also an amateur radio operator and encouraged me to renew my license even though I was not active at the time. This way I wouldn't lose my original call which had been KN9BIO.
My major at Taylor was psychology with a minor in religion. I graduated in 1965. It had taken me seven years to get my degree and I had no aspirations at that time for further education or a regular job. I offered myself to my church and they agreed to pay my insurance, feed and house me, and pay a stipend of $40 a month. With nothing but personal responsibilities, I could live with that.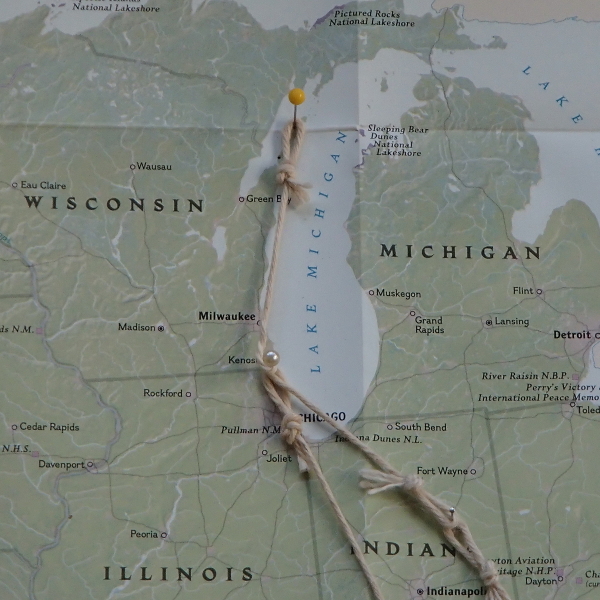 I was planning at that time to go into the ministry of the Christian Catholic Church in some capacity. With that in mind, I spent the summer working at the church in Zion and at Camp Zion in Door County with plans to go to one of the mission situations in the fall. Since my home church is going to come up a lot in following paragraphs, I will simply refer to it from this point as the CCC.
Rev. Earl Minton who was in charge of the Mission in Jamaica was interested in me. He wanted me to take a course in child evangelism and replicate the program in Jamaica. Rev. Carl Lee was the General Overseer (similar position to Bishop) of the church and was a good friend and mentor. He knew that Earl Minton would not be a good fit for me and discouraged the Jamaica adventure. He was correct. In fact, Earl and I clashed theologically and twenty years later was one of the prime movers to get me banned from volunteering at Camp Zion.
So I headed West in my old Volkswagen Beetle, stopping to visit my brother in Huron, South Dakota where he was a college freshman. Being a Midwesterner, I had no inkling of the effect that altitude has on climate. My destination was Sacramento, California and I thought that I could just get on the road and follow a straight course. It was late October and I had a rude awakening when I got to Cody, Wyoming and there was a gate across the road. I had to backtrack and get south to what is now Interstate 80 to make my way to Salt Lake City.
I should pause here and tell a little about the Volkswagen. It was a 1954 Beetle with a 1200cc engine and over 100,000 miles when I bought it for $300. I modified it for my trip west. With the back off of the passenger seat and a sheet of plywood extending over the front and rear seats on that side, I had space where I could extend full length for sleeping. As mentioned before, my home church was paying my insurance plus only $40 a month for expenses and the churches I was working for were expected to house and feed me. On the road, I was on my own and staying in a motel was out of the question. Going across the country, my round-the-clock pattern was to drive until I was tired, find a safe place to park, roll over to the passenger side, sleep until I woke up, and then drive on. I'm sure that I was quite a sight going down the road. Since I was going to be gone until the next summer, I had both downhill skis and a bicycle on the top of the car.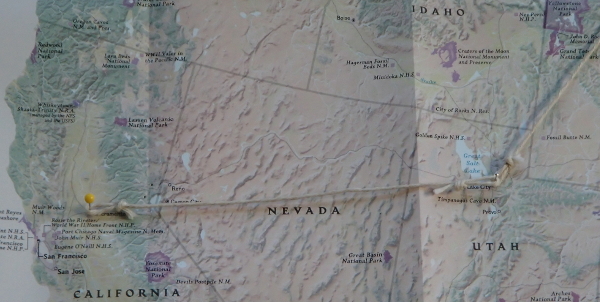 The "Volks" got good gas mileage for that time—about 30 miles per gallon. Gasoline in the mountains and on the Indian Reservation was expensive, probably because of the hauling cost to a remote area. I remember thinking that if I had an extra ten gallon tank I could drive from Denver to Salt Lake City without having to buy the expensive forty cents per gallon gas in the mountains. Normal price for gas in the cities was a little over thirty cents. In the middle of the night in Colorado (maybe it was Wyoming) I had my first experience with a self-service gas station. You pumped your own gas. The lady in the station read the amount on the pump with binoculars and you passed the cash in through a little window.
I was headed for a CCC branch church in Sacramento, California. The church founder had envisioned the CCC as a world-wide organization. As people from Zion moved to other parts of the country, they often started small congregations. During the year, I was commissioned to work with congregations in Sacramento, Phoenix, and at Inscription House on the Navajo Indian Reservation. I was doing all sorts of jobs; construction, auto repair, Sunday School, youth work, and occasional Sunday sermons. The letter I had from the church authorized me to perform all church functions except marriage and burial.
I was in Sacramento until just after Christmas and my return East for Christmas was an adventure. First of all, I had very little cash. I did have a fairly nice four-string banjo that I sold for $35. My brother Tim was in school in South Dakota. My sister Jill was with cousins in Salina, Kansas. My mother was working at a school near her sister Irene in Carrollton, Missouri. I drove east and somehow without benefit of cellphones, met up with Tim at the bus station in Denver. We picked up Jill in Salina and I can't imagine how we all fit in the Volkswagen. Anyhow, we were all together in Missouri for Christmas.
On the return trip, I dropped Jill and Tim off at Salina and Denver and continued west to Sacramento. I ran into heavy snow at Donner Pass and was forced to pull over and install chains in the middle of the night. I had a set of chains but they wouldn't fit on my oversized rear tires. The solution was to exchange all four tires. The oversized rear tires to the front and the front tires with the chains installed on the rear.
I have no significant memories of the Sacramento experience. I mainly worked construction helping the minister build a new house on the property behind the church. We were actually living in the church building at the time. I did get to San Francisco one time to visit some distant Campbell relatives and also up to Lake Tahoe for a day of skiing. The Winter Olympics had been at Squaw Valley in 1960 and I was excited to visit and ski in the area.
After Sacramento, in January 1966, I headed for Phoenix, Arizona, stopping to see my cousin Gloria Robinson in the Los Angeles area along the way. She and her husband Don had two boys; Stan, age 14 and Chris, age 10. I found later that I had made an impression on Stan, as a guy wandering around the country which had a bearing on his later lifestyle. Typical of the way I was traveling, I did not stay the night but in the evening started east for Arizona. I remember approaching Phoenix about daylight and asking directions to Sunnyslope which was a community on the north side.
My living arrangements were with Leon and Sara Barton who had a duplex near the CCC branch church. They had moved to the Phoenix area for their health. In the early years, the desert air was good for persons who suffered from severe asthma conditions. In later years, many of the people who moved to places like Arizona for their health started irrigating and planting their favorite Midwest plants causing the air quality to deteriorate.
Leon was the one who started the Sunnyslope branch of the CCC and at the time I went there, he was dividing his time between Phoenix and the church mission to the Navajos at Inscription House. Larry Davis was the pastor at Sunnyslope and was finishing a degree at the university. My job was to be a help to him while he was taking courses. I was involved with home visits, youth work, teaching Sunday School, and occasionally preaching on Sunday morning. I lived in a duplex owned by the Bartons. They lived in the other half and I had a lot of my meals with them. Other meals were with Larry Davis and his wife Kathy and with the Wilsons, who were members of the church. As I mentioned before, I had my bicycle with me. Sara Barton had breathing problems. She started taking my bike on daily rides and found that the exercise had a great benefit to her general health and well being.
Phoenix was typical of the CCC branches. With the exception of the Navajo Mission, they were established because of a community of former Zion, Illinois residents who had moved to a particular area. The problem was that they became an ingrown community who remembered Zion from its early days and most other residents of the area did not buy into that. Zion's founding was as a community of salvation, healing, and holy living. While those practices in the actual city of Zion, Illinois became diluted by other people moving in, these small groups became fixed models of the original Zion, avoiding doctors and the consumption of supposed unclean foods like pork and shellfish. In Phoenix, some were critical of the fact that Larry and Kathy Davis's children were born in the hospital under the care of a doctor.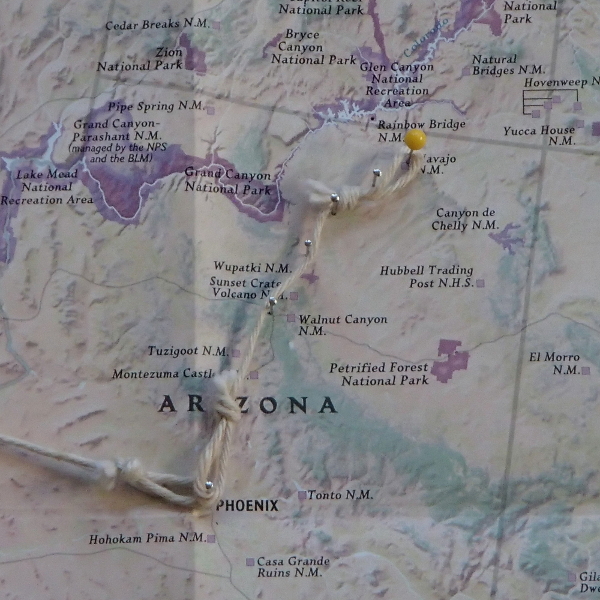 My first trip up to the Navajo Reservation was with Sara Barton. It was also my introduction to Mexican food. We stopped at a Mexican restaurant in Flagstaff which was about half way to Inscription House. Going from Phoenix to Inscription House you first head north to Flagstaff. Again, I was confronted with climate changes associated with altitude. Winter temperatures in Phoenix might get as cold as forty degrees. With the increase in altitude you might encounter snow as you head north. Then down in the Verde valley to warmer temperatures. Finally, up to Flagstaff with snow again and skiing in the San Francisco mountains. From Flagstaff we continued north to Cameron. At this point, you could head west to the Grand Canyon. Instead, we went northeast towards the Four-Corners area where the states of Utah, Colorado, Arizona, and New Mexico meet. At Tuba City, you are about fifty miles from your destination. Just south of Tuba City is the Hopi Reservation which is completely within the Navajo Reservation. At Tonalea which was little more than a trading post and US Post office, we turned northward on a dirt road for the last twenty-two miles to the Mission.
My father's sister Miriam Robinson was instrumental in the founding of the CCC Mission to the Navajos. Miriam was an interesting character. When I was a little boy, she was an old-maid school teacher at Elmwood School in our Zion neighborhood. Like everyone else in the family, she was very involved in the CCC. She had gone to on a mission trip to Palestine as a young girl with my mother's uncle Frank Robinson and his wife. After Frank's wife died, Miriam, at forty years old, married him and they went to Pasadena, California to start a CCC branch church. It was an interesting combination; my aunt married to my great uncle. After Frank died, Miriam was single again and lived in a trailer at Inscription House while the Mission was being established. She later married Frank's brother Malcolm who came to live with her on the Reservation. Malcolm died a couple of years before I arrived in 1966 so she was once again single. In the early 1970's, she married a third time to a man named Smith from Australia. She died there in the late 1970's. Quite a marriage career for a woman who was single until she was forty.
In my year's adventure for the church, the Navajo Reservation was my favorite. At that time, Inscription House was twenty-two miles from the nearest paved road and I encountered Navajos who were living as they had lived for centuries. There was the Mission and a trading post and that was all. The dirt road continued another fifty miles to a trading post at Navajo Mountain up by the Colorado River and the Utah line. The actual Inscription House was an Anasazi cliff ruin a few miles down the canyon that had a 1600's date on it from the Spanish explorers.
We were on a high plateau dissected by deep canyons. The Navajo were the nomadic herders as compared to the Hopi who lived in villages. In their matriarchal culture, the sons-in-law lived near the mother-in-law and worked the sheep together. At that time, most were living in the traditional domed hogan made of logs and packed with mud. It was comfortable in the winter and the hard packed floor was always swept and clean. In the winter there could be a lot of snow on the high plateau and the sheep were kept at a lower altitude down the canyon where it was warmer. Families moved a lot finding grazing for the sheep, maybe as much as forty miles away from the main dwelling on the high plateau.
As with the other places I stayed, I was involved in visitation, Sunday School, auto repair, and construction. I lived in the old trailer that had been my Aunt Miriam's when she first came to the Reservation.
In northern Arizona there is a rock formation called Rainbow Bridge. It is a natural stone arch large enough to put the Washington Capitol building underneath. I wanted to see it. At this time, with the dam at Page, you can take a fifty mile boat ride within a few miles. In 1966 the only way to get to Rainbow Bridge was to hike in from Navajo Mountain. Joe Begishi and I drove to the end of the road and started out, our plan being to hike in, spend the night, and return the next day. At Navajo Mountain, Joe asked directions and we started on the trail. We hiked all day, spent the night without getting to Rainbow Bridge, and returned the next day. We later discovered that the trail we were on did go to Rainbow Bridge but it was the long trail around the back of the mountain. There was a shorter trail on the other side that was only 13 miles long. I made plans for another try. My aunt suggested that I might take cousin Gloria's boys along on the next try. I said that I didn't think it was a good idea with typical city kids not used to the rough country but my aunt was determined. When she went to visit them in California, she invited them.
At least we had a better plan this time and Navajo Lewis Tate was going along. Lewis was older and more experienced than Joe. It turned out to be quite an experience for all of us, especially Stan and Chris. Stan at 14 was OK but Chris at 10 was probably too young. These guys had grown up next door to Disney Land and were suddenly thrust in an environment where they did not see any sign of civilization for two or three days. Also, hiking down the canyons can be tough. It is the reverse of mountain climbing. Going down is relatively easy but for the return trip you have to climb out. On the return, Chris became discouraged and was having a hard time. I decided to just take my time with him. I sent Louis and Stan on ahead to go back to Inscription House and send someone from there to meet us at the trailhead the next morning. A few miles from the end, Chris gave up. There was no one to come and carry us out so I got him in his sleeping bag and he just slept on the trail. As I think back, it is hard to believe that I just left him there and in the night, hiked to the trailhead. Sure enough, Keith Begay was waiting for me. We went back and roused Chris for the last bit of the journey out. Keith carried his pack and I carried him up the hills, making him walk the downslopes. The difficulty was all in his mind because soon after returning to Inscription House he was playing basketball with the Navajo youngsters.
Rainbow Bridge is magnificent but was probably not appreciated by the boys as much as me. Stan went on to become a hiker and backpacker but Chris went back to California life and eventually moved to Hawaii. The trip provided me with one of my stories of life and heaven:
It's all about the journey. The hike to Rainbow Bridge was tough. In today's Navajo Nation website, they recommend making it a two-day trip each way. We did not have the advantage of such information and so, like life we were just taking one step at a time. The key is that I enjoyed the challenge and the journey through the canyons of northern Arizona. The remote destination was one of the seven wonders of the natural world and it was spectacular for me partly because I enjoyed the journey. I am convinced that for some people, Heaven will be a disappointment because they are crabby, ill tempered people who have not enjoyed life. I probably should not talk because I have generally enjoyed good fortune that is as undeserved as those who seem to be saddled with hard times and disappointment. The bottom line; Are the situations we encounter stepping stones or stumbling blocks? Tony Hillerman gives a good example of a Navajo attitude that has become a model for my prayer life. "The Hopis pray for rain but the Navajos just deal with whatever comes." My prayers are not for special gifts or treatment but just the strength and presence of mind to deal with whatever unfolds each day.
I returned to Zion and spent the summer working at Camp Zion. My plan was to continue my journey towards becoming a minister for the Christian Catholic Church. In this, I was encouraged by my mentor, Rev. Carl Lee. I had been accepted by both Trinity and North Park Seminary and decided on North Park. North Park is a school of the Evangelical Covenant Church.
In my North Park years there was a lot of sorting out. My church did not have a good plan for bringing ministers into the fold. There was no institution for training ministers and the existing ones had plotted their own course. Carl Lee and Jabez Taylor had gone to a Church of the Bretheren school. My other model for ministry, Michael Mintern had not graduated from any seminary that I know of. Charles Kessler was a professor of Greek and church history at Garrett in Evanston. Roger Otterson and Larry Davis were Moody graduates and Earl Minton went to Fuller. A wide range of doctrines that would cause me a good bit of confusion and difficult times.
I had already come through a difficult time with the fundamentalist Church of Christ and had even been re-baptized by them in Atlanta. My break with the Church of Christ was essentially that I could not accept their view that there was only one correct view and everyone else was going to hell. This view has been my mantra and has shaped my thinking, even extending to those who are not part of the Christian religion or are not religious at all.
I enjoyed the doctrinal views of North Park and was comfortable there. My difficulties were with my home church and the difficulty of supporting myself financially. Driving a school bus was one source of income and fit well into my school schedule. My ultimate good fortune employment wise was with the Chicago Parental School. The school was at Foster and St Louis and only a few blocks from North Park. In recent years, the school has been razed and the property is part of Northeastern Illinois University. The Chicago Parental School was a residential school for truants. Typically, if a child missed 100 days of school, the courts would remove him from the home and impose a three-month stay. Students would often make great gains scholastically because they lived at the school and were able to attend classes without the fear and distraction of their Chicago neighborhood. It was a semi-locked situation (students could easily jump the fence and run if they wanted) where the students had 24 hour supervision. That meant that someone had to watch them sleep.
My first job with the Parental School was from 11:00 PM to 7:00 AM, a great job for a student studying and watching the kids sleep. I was certified by the Chicago Board of Education as a Family Instructor since we were supervising students during their non-class hours.
I was studying to become a minister for my home church in Zion and was involved in various youth activities there. The experience was a mixed bag because for some of the ministers, I was not evangelical enough. Three situations, two good and one not so good to illustrate:
I was very much at home in Camp Zion and other related activities for the Church. Jean Storey was Carl Lee's secretary and also Camp director and we worked well together. I had been raving so much about my Navajo experience that we decided to take high school students on a camping/bus trip adventure to the West. This was the first of the western adventures. We did another trip in 1972 in connection with Expo 72 in Dallas and there were several others.
•••-•-
I also initiated the first of the bike adventures to Camp Zion. I had always been a bicycle rider and there were high school boys who had a goal of riding their bikes from Zion to Camp Zion where they were signed up for the high school camp week. We would do a lot of riding in the Zion area in preparation. The 250 mile ride to camp was a two-day affair, sleeping somewhere along the way. It was always good if we could cover 140 miles the first day and make the second day easier. We would start early from Zion, with the first stop in Milwaukee for breakfast.
•••-•-
At the beginning of my second seminary year, the church made a proposal for me to spend more time with the youth while I was at school. I was hard pressed with my work and studies and made an alternate proposal which turned out to be life altering. I felt that with my night job and studies I could not do justice to adding responsibilities in Zion. At the time, I was earning $5,500 working nights for the Chicago School System. I offered to leave seminary for a year or two and work for the church full time if they could match my salary in Chicago. I also wanted the option to return to school after a year or two. They turned me down and almost coincidentally, at the same time, allocated $15,000 to repave the parking lot. I could see a pattern that I have continued to observe throughout my life, not only in churches, but institutions in general. It seems to be easy to allocate funds for buildings, equipment, and material things but difficult to justify funds for people projects, in this case, the youth of the church. This pretty much ended my seminary experience. I enjoyed the experience but obviously did not have the calling to become a full-time minister. I decided that I would always work for the Church but I did not want to be employed by the church.
•••-•-
This has been my life pattern to this day.
Jon received his bachelor's degree from Taylor University and his Master's Degree in Science Education from National Lewis University. He raised a family in Zion, Illinois and was a well-respected teacher in the Deerfield, Illinois public schools for over 30 years. He also wrote and taught Amateur Radio Courses at the Hadley School for the Blind in Winnetka, Illinois.
After retirement, he moved to Door County, Wisconsin where he appreciated all the silent sports of hiking, biking, canoeing, sailing, and cross-country skiing. He was active the Door County Amateur Radio Society, the Door County Land Trust, The Friends of Toft Point, The Ridges Sanctuary, and the Ukulele Society of Door County.
Jon had a strong and insightful-filled faith. He was a member of the Jacksonport United Methodist Church where he was a lay leader and a staff parish leader. He especially valued the Adult Forum Group on Sunday mornings at the Sturgeon Bay United Methodist Church.
Jon died on March 11, 2018 in the town of Sevastopol, Wisconsin.